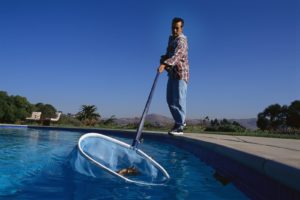 Swimming is a great bonding activity for your friends and your family, and is also an appropriate recreation because of the weather conditions during California summers.  However, one must be aware that there may be contaminants in your pool, exposing everyone to all kinds of diseases.  Without proper sanitation, you may find yourself very vulnerable to of E. coli, Rotavirus, Salmonella, and Shigella (can cause gastrointestinal problems), Adenoviruses (linked with gastroenteritis, respiratory infections, and eye infections), as well as Pseudomonas aeruginosa (can cause pneumonia and urinary tract infections).
Moreover, it must be known that this is inevitable. The only way to minimize the chance of infection is through the help of certain services like the regular upkeep of your pool.  Pool cleaning services are available to offer effective solutions to the problems at hand.  No matter how complicated it gets, you can always take a step back and leave it to professional pool cleaners to finish the job.  While there are great things that pool cleaning services can do for your pool and for your family, it is still necessary to take precautions.
All the products used on our body effect the humans' tipping the chemical balance of the water. This gives pool managers a reason to make it a policy that we should take a shower before diving into the waters. Basics of pool etiquette, especially those concerning hygiene, must be taken seriously at all times.  The burden of preserving safety is not solely in the hands of licensed pool cleaning services. They simply become a helper when we have exhausted our skills in cleaning and in taking care of the pool and the equipment.
Even when not dealing with organisms invisible under the naked eye, pool cleaning services have remained useful and practical.  Delivering service to other pool owners as well, they have the tools needed for a very specific job.  They, in order to survive in the industry, must have all the equipment that would help them provide their services to more customers in a smaller amount of time.  Moreover, the best thing that licensed pool cleaning services can offer is your peace of mind.  While you may be spending a few more bucks hiring people from a legitimate business, you would know where it went.  The quality of service as well as the safety of all who enjoy the pool are guaranteed, leaving you with nothing to worry about.